River Cruising – Is It Right For You?
We use affiliate links. If you make a purchase through one of them we may receive a commission at no extra cost to you. See our Disclaimer to learn more.
We understand that travel is not just about the destination—it's about the journey. And what better way to embark on a journey of luxury, comfort, and unparalleled service than on a luxury river cruise?
River cruises offer an intimate, personalized travel experience that connects you with the heart of your destination and offers a unique and immersive way to explore new destinations.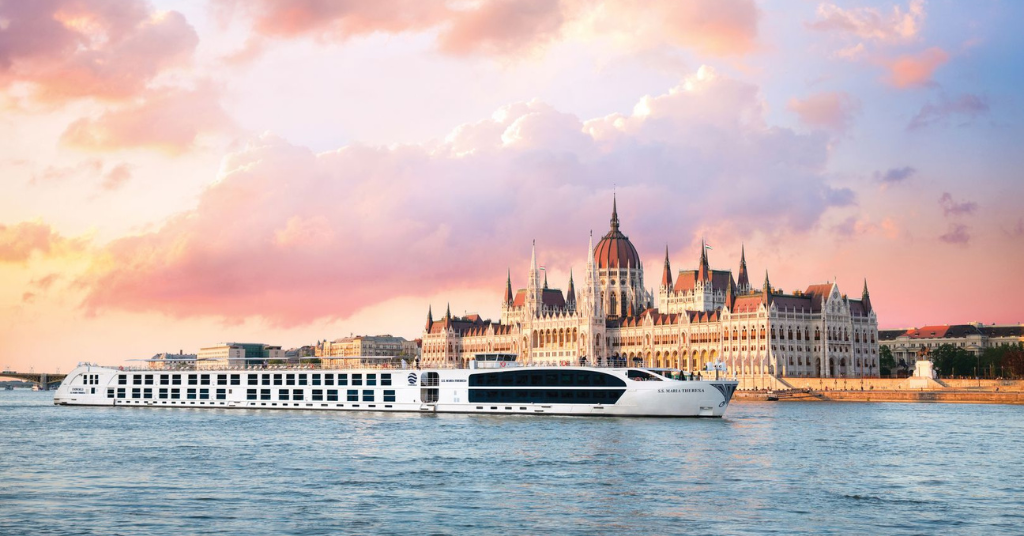 Why River Cruising Might Be Right For You
I, personally, fell in love with river cruising the moment I stepped on board my first river cruise way back when…..
Unlike ocean cruises, river cruises take you through the heart of cities and towns, providing up-close and personal experiences with local cultures and landscapes.
With smaller ships and fewer passengers, you'll enjoy a more intimate setting, exceptional service, and the opportunity to truly connect with your fellow travelers. Plus, with all-inclusive pricing, your luxury experience is hassle-free from start to finish.
We find river cruises to be relaxing, culture-filled vacations, and even though we've enjoyed multiple sailings over the past years we still choose to do another river cruise whenever we have the opportunity because we always come away from the trip feeling pampered, refreshed, and relaxed.
Sometimes, we even take groups with us! If you missed us on the Danube in 2023, there's still time for you to join us on the Rhone in 2024.
These River Cruise Brands Are Favorites
We have personally sailed on many river cruises ourselves in addition to arranging them for our clients since they first started becoming popular a number of years ago.
So, we're not only familiar with the different river cruise brands because we work with them – we have actually taken the time to experience different brands and itineraries ourselves so that we can better understand the best options for you!
We choose to partner with the best in the industry to ensure that your river cruise experience is nothing short of spectacular. Here are some of our favorite luxury river cruise brands:
How You Can Benefit By Booking With Us
You know, you won't pay anything extra to have us book your river cruise for you.
That's right. You will not pay any more for your river cruise by working with us. In fact, you may well spend less. That's because we have special relationships with river cruise brands and in many cases can offer you special savings and extra perks that you won't find if you book on your own.




Benefits you won't want to miss:
There are a lot of different brands and itineraries. So many that it can be overwhelming! We'll help you sort through the different options and settle on the river cruise brand and itinerary that is perfect for you.
Once we know which options are a good fit, we'll find the best pricing available. We have access to special pricing on many sailings.
In many cases, we can get you some extra VIP perks. Who doesn't love perks, right?
We'll help you sort through the shore excursion options if your cruise allows pre-booking of those.
Door-to-door travel arrangements including Pre/Post packages.
Basically – we offer you a seamless process for the entire booking process from start to finish.
All you have to do is pack.
---
Best Way To Book Your River Cruise
Ready to explore the possibility of taking a luxury river cruise?
Did you know?
You won't pay anything extra if you have us book your river cruise. In fact, you may pay less + enjoy extra VIP benefits.
For more information or to book an expedition cruise, please call me directly at 262-389-0658. Alternatively, you can submit this quick form which will come directly to me, and then I'll reach out to you.
We'll start by simply having a conversation with you to find out more about what you're looking for. No worries – no obligation! It'll just be like a couple of friends having a coffee chat 🙂 Or, it could be a coffee email or Zoom too! Whatever works best for you.
I promise – we will make the whole process completely seamless for you!
Contact one of us today to start planning your luxury river cruise. Let us show you the world from a whole new perspective – the rivers of the world.
---
Is this your first visit to our blog? If so, hop on over here and meet us properly so you can learn a bit more about us.